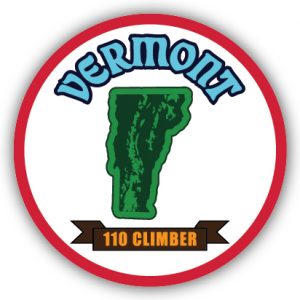 The Vermont 110 are the 110 mountain peaks in Vermont above 3000′ in elevation. (five above 4000′, 105 above 3000′). Those who climb all 110 mountains can email us your completion date, and we will mail you a patch for having completed the list. The vast majority of the 110 peaks in Vermont are on public land, or have a public land accessible route to the summit, but a few require securing proper permission to climb. Some mountains have no trail to the summit requiring you to bushwhack to reach the top. Climbing these mountains on trail and when bushwhacking the trailless mountains is difficult and requires excellent ability, safety, navigational, and hiker preparedness practices.  Always climb safely and be respectful of private property and landowners.
The Green Mountain State has some of the most beautiful peaks and bushwhacks anywhere–enjoy the views!
We are looking for additional photos of various Vermont mountains on the list, email: thevermont110@gmail.com if you would like to share any photos on or of the peaks on this site. Thanks!
Latest News
7/12/23. FLOODING IN VERMONT – GREEN MOUNTAIN CLUB RECOMMENDS STAYING OFF TRAILS. SEE IMPORTANT NOTICE BELOW:
To our Vermont hiking community: 
The last few days have been eventful to say the least. We saw historic rainfall levels on already-saturated soils, leading to widespread flooding impacts across the state. The highest rainfall was concentrated along the spine of the Green Mountains with some locations receiving more than seven inches of rain in 24 hours. 
Our hearts are with the communities impacted by this flooding. Vermont's emergency personnel and road crews are working around the clock to keep people safe, assess damage, and inform the public. Thank you to the shuttle drivers, volunteers, and fellow hikers who came to each others' aid to provide rides off trail or safe shelter-in-place scenarios.
At this point, a lot is unknown about the extent of the flooding impact on the Long Trail System. GMC pulled all field staff from the field on Sunday for their safety. Beginning today, Wednesday, staff are conducting a rapid trail assessment that will cover road and trailhead access and major bridge integrity. We will have some updates available to the public on our website by the end of the day, but a full survey of the 500+ miles of trail under our management will take quite some time. 
Due to the unknown and potentially dangerous conditions of trails, access roads, bridges, and structures, we recommend that hikers stay off the trails.
 Please postpone or cancel any planned hikes for the time being – day hikes, overnights, or otherwise — in order to alleviate any risks that would potentially strain our already stressed emergency services.  
There are more storms in the forecast for Thursday and Friday and the National Weather Service has warned of further potential for flooding due to the already high water levels.
You can follow GMC's trail updates, when we have them, on our website here: July 2023 Flood Updates 
Statewide Flood Information and Resources:
National Weather Service – Burlington
National Weather Service – Albany
Vermont 511 (Road Closures)
VT Alert
Vermont.gov/volunteer
Long Trail Hiking — GMC Community Facebook Group
Thank you all for your support and cooperation. For emergencies, dial 911. For any questions, email gmc@greenmountainclub.org or call 802-244-7037